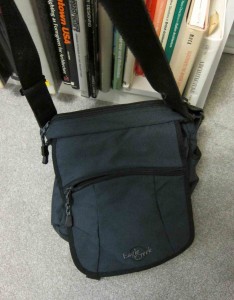 I have been using this Eagle Creek bag as my travel purse for years. It is well worn, but has been a good purse. For this trip Murray and I want to be able to put extra stuff in our "purses", so we need our purses to have some extra room. Normally, we would carry things like binoculars, electrical cords for the netbook and charging cables/plugs for the cameras in our larger carry-on bags. The idea is that if we have to check these larger bags for a flight, or leave the bags somewhere, we would take out these items and put them into our purses so they are with us and the potential of getting stolen is reduced. Murray's purse is big enough already. I did a practice pack with my purse and I do not think it is big enough. I put the netbook, its cord, mouse etc, binoculars, my camera, 2 pairs of glasses, a wallet and a couple of little things in the bag and it was pretty full. There is not much room for anything else that I may have forgotten. So now what do I do? We measure the bag.  The large pocket is 10x9x3, about 4 L of volume. (I know, I am thinking in both imperial and metric. 4 L makes sense to me as it is a jug of milk!) It also has a smaller outside pocket that is about 1.5" wide and would hold small items and increases the total volume of the bag, but not by much. It also has other pockets on the front flap, front inside and back of purse increasing the volume to maybe 6 L at the most. Murray purchased his courier bag online from Courierware
www.courierbags.com
 and is extremely happy with it. It has traveled all over the world and is holding together wonderfully. I go online to Courierware and start shopping. I like a vertical bag better as I am small and a courier bag feels too wide for me. They have Walking Bags that look just right. The Small one is 11.5?x10?x4.5? for a volume of 8 L. I check out the options and my choice of bag would be $110 US. I also decide the Medium size bag would be too big for me. I have now mulled this over for a few days and still cannot decide to order it.  I need to make a decision as we are 6 weeks away from our trip. Let's look at the Pros and Cons of buying the new bag.
Pros:
New bag has more volume than the old bag. 8 L compared to 6ish L
Dimensions of new bag are bigger compared to old bag, so it should carry more stuff
New bag is just plain better looking than old bag!
I would get to choose a funky color for the new bag!
Cons
Price tag of $110 US plus shipping plus duties and taxes
If I order it, get it and it won't work, it is a pain to send back and I may not get my duties and taxes back
It is not guaranteed that it will give me any more usable volume without trying it first
What should I do? What should I do? Another day goes by and I make my decision. Just comparing the volumes, the new bag is 8 L and the old bag is at most 6 L.  Based on that one fact, I am going to order it! Here I go! Now my only conundrum is what colour!
CoureirWare Small Walking Bag Review
link to original post